Indulge in the Flavors of Benidorm: Exploring the Gastronomic Week Event
2023-03-03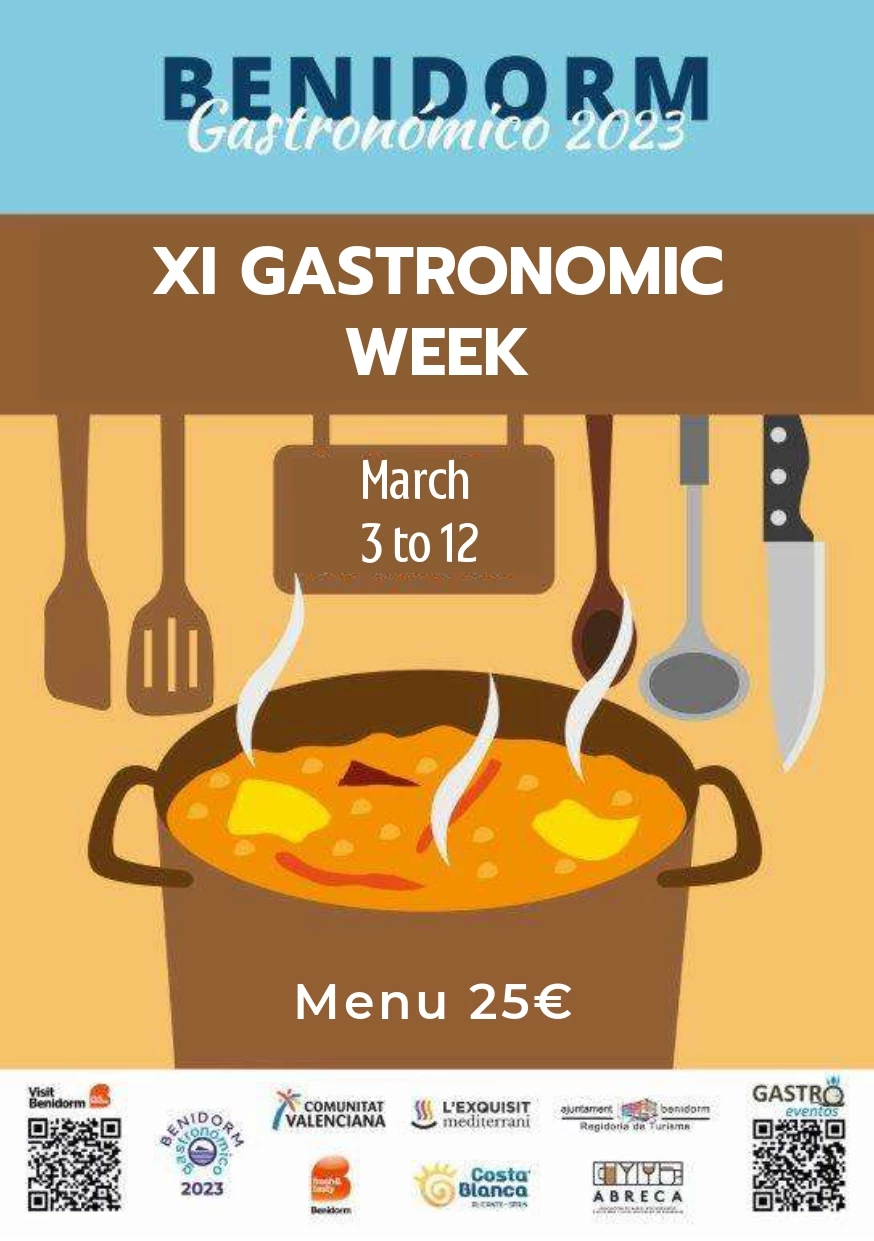 Benidorm Gastronomy Week (3rd to 12th March 2023)
Food lovers, get ready for the ultimate culinary experience at the 11th edition of the Gastronomic Week in Benidorm! From 14th to 20th March, 11 of the city's top restaurants will be offering a special set menu of local specialties, showcasing the very best of the region's cuisine. If you're looking for an excuse to indulge in some seriously delicious food, this is it.
The Gastronomic Week is an eagerly anticipated events on the Benidorm calendar, and for good reason. The city is home to a rich and diverse culinary heritage, influenced by its location on the Mediterranean coast and its history as a trading hub. The local cuisine is characterized by fresh seafood, rice dishes, and vibrant flavours, all of which will be on full display during the week-long event.
Each of the 11 participating restaurants has created a unique and enticing set menu, designed to showcase their own take on traditional local dishes. From hearty stews to delicate seafood dishes, there's something for every taste and appetite.
Of course, it's not just about the food - the atmosphere during the Gastronomic Week is also something special. The participating restaurants are all located in the heart of Benidorm, creating a festive and convivial atmosphere as diners explore the city and sample its culinary treasures. And with so many restaurants to choose from, you can easily spend a whole week exploring the different menus and soaking up the vibrant energy of the city.
If you're planning to attend the Gastronomic Week, we recommend booking your table in advance to avoid disappointment. The event is always popular, and tables fill up fast! You can find a full list of participating restaurants on the official Benidorm tourism website, along with details of their set menus and pricing.
And if you're not able to attend this year's event, don't worry - Benidorm is home to a thriving food scene year-round, with plenty of restaurants and bars serving up delicious local cuisine. Whether you're looking for a casual seafood lunch or an upscale fine-dining experience, you'll find plenty of options to satisfy your cravings.
So why not come and discover the culinary delights of Benidorm for yourself? Whether you're a first-time visitor or a seasoned traveller, the city's vibrant food scene is sure to leave you hungry for more.
You can explore all these places when staying with us at La Caseta Apartments Sabesa Benidorm
Bon appétit!